Building Power by Building Teams with EDues. May 2022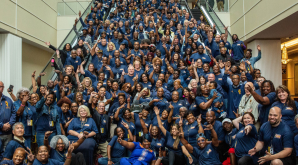 Building Power by Building Teams with EDues. May 2022
last update on: 05/12/2022
 

Tuesday, May 31, 2022

3:00pm - 5pm EST

 

How can I achieve my EDues goals? How can I use Broadstripes to assess my BUE?    

   

These are some of the many questions faced today by local leaders avidly working to organize and sign members up for EDues. This two-hour workshop will enable you to plan and analyze data to identify events to recruit new and existing members to EDues.    

   

This workshop allows you to use Broadstripes to find EDues Members and describes how to create a comprehensive list of your entire Bargaining Unit (BU), to distinguish members from potential members - Build Power - NOW. In addition to formatting a local email based on the steps outlined by your recruitment plan.   

 

NOTE: This course is recommended for individuals who have completed EDues training for Local Officers. It is an advanced training course outlining NOW communication strategies and demonstrating how to use Broadstripes to map and recruit members.